We are going to have some fun giveaways this week during the Extravaganza! 🙂  Here's how you can get your hands on some freebies from me…
First person to order! — Last person to order! — Largest Order! 
That's it! At the end of the week, I will sent you a freebie product if you are the first person to place an order (starting today 11/21), the last person to place an order (through 11/26) and the person with the largest order! (24-hr. flash sales will have special drawings for freebies!). Good luck!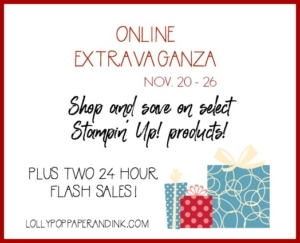 Yesterday's flash sale was a huge success! If you didn't get a chance to pick up any of those seriously discounted stamp sets… no worries! The extravaganza continues all week and will officially be over after the second 24-hour flash sale on the 27th! Stay tuned for details on that one!  🙂 But remember…. these items are all while supplies last!
You can preview all the items available this week at 10%, 20%, 30% even 40% off below. And/or you can click on and print the list right here: