Mark your calendars… September 1st… the 2017 Holiday Catalog goes live!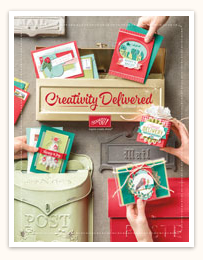 You will be able to order from the new 2017 Holiday Catalog on Friday, September 1st! I hope you have had a chance to go through the catalog and have your wish list ready to go!
I wanted to give you a little 'Bang For Your Buck' post by choosing just one stamp set and one DSP pack to make MORE than ONE card…. 12 actually!  🙂
Check out my video HERE to see this project in action!
So… 1 Stamp Set + (2) different designs from (1) DSP stack = 3 Holiday Cards. And remember, this DSP comes in 12″ x 12″ sheets! So… let's do the math…3 different designs x 4 = 12 cards from one sheet of DSP! This is what I came up with!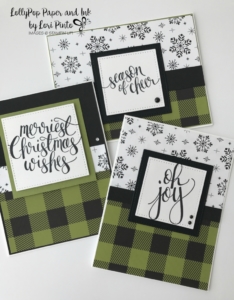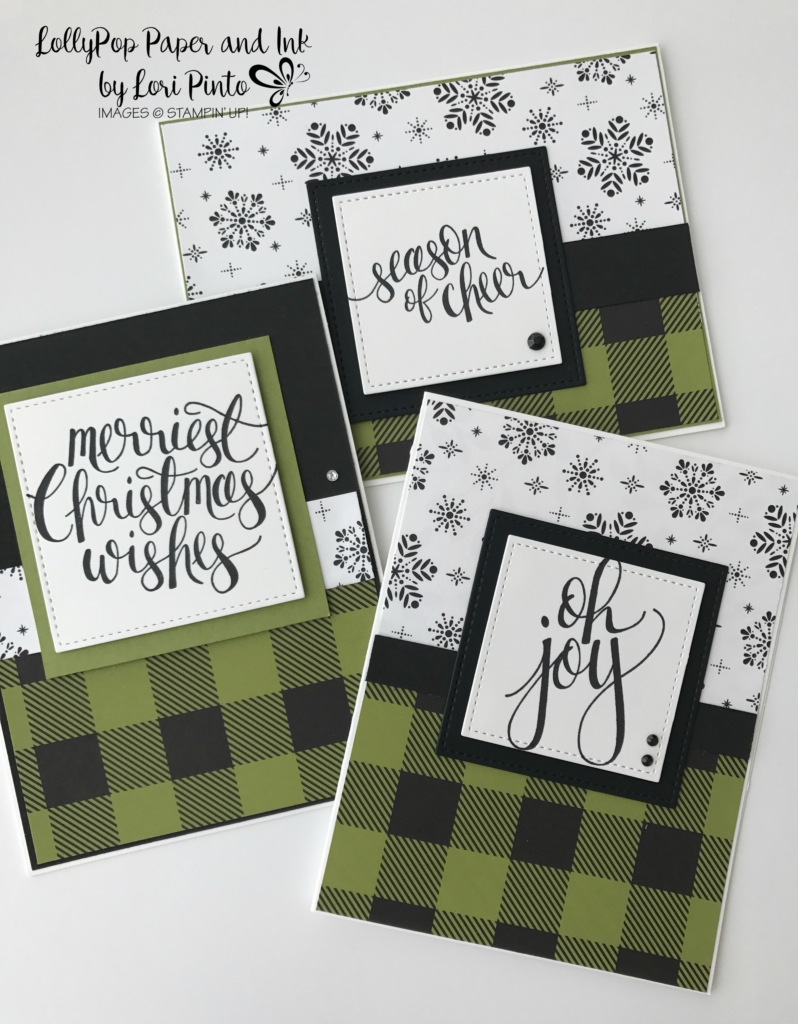 Love this DSP? A sampling of it is included in my Holiday Paper Share! Check out the details HERE to see how to get a little bit of it all the DSP — at a fraction of the price!
I chose the Watercolor Christmas stamp set (because it has three really pretty fonts with three really nice sentiments) and one 6″ x 6″ piece of the Merry Little Christmas DSP. I am just crazy for this plaid design!  🙂  I used the Heavy Whisper White card stock for all three card bases and I used the regular Whisper White card stock for the sentiment/focal image squares. I used the Stitched Shapes Framelits Dies to cut out the stitched squares. The other card stock I used was Basic Black and Old Olive.
Here is how I measured out the (2) pieces of 6″ x 6″ DSP:
The Season of Cheer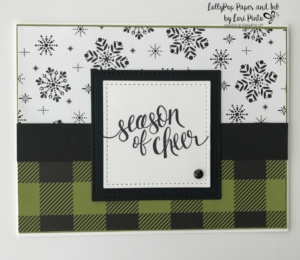 Old Olive layer: 5-7/16″ x 4-1/8″
Plaid layer: 5-3/8″ x 1-7/8″
B&W snowflake DSP: 5-3/8″ x 2″
Black square: 2-5/8″ x 2-5/8″
Sentiment square: 2-1/8″ x 2-1/8″
Black strip: 3/4″
Oh Joy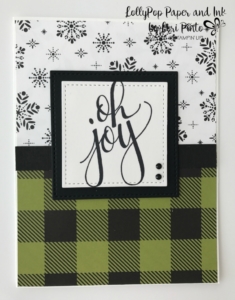 Plaid layer: 4-1/8″ x 3″
B&W snowflake DSP: 4-1/8″ x 3
Black square: 2-5/8″ x 2-5/8″
Sentiment square: 2-1/8″ x 2-1/8″
Black strip: 4-1/4″ x 1/2″
Merriest Christmas Wishes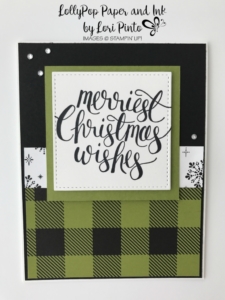 Basic Black layer: 5-3/8″ x 4-1/8″
Plaid layer: 4″ x 3″
B&W snowflake DSP: 4″ x 1″
Old Olive square: 3″ x 3″
Sentiment square: 2-5/8″ x 2-5/8″
All of the stamping was done with Basic Black Archival ink for really crisp images and I added very few embellishments (Black Rhinestone Jewels/ Rhinestone Basic Jewels) to each of the cards, but you could easily add more to your liking!
I hope you liked today's card! The products I used for this project will be available on September 1st!  I have the items listed below.
When you do make a purchase, please remember to use the Host Code -4XEVHJBA. Be sure to CLICK HERE for the details on my LollyPop Rewards Program! This is my way of thanking my returning customers
If you are not currently working with a demonstrator, I would love to have you as a customer. I offer excellent customer service and free items with qualifying orders.  If you would like a copy of the new Annual 2017-2018 Catalog or the 2017 Holiday Catalog, just email me and I will be happy to pop one in the mail for you.
I love hearing from you! If you have a question or thoughts to share about today's post, please feel free to leave a comment!
Thanks for stopping by today! I hope you get a chance to visit again soon!
Happy Stamping!
Be sure to check out this month's incentive! Polka Dot Basics Textured Impressions Embossing Folder. Click HERE for all the details!
Lori