See all the free goodies up close and personal…  🙂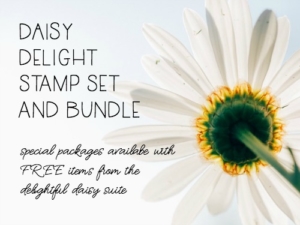 I finally did my first video… and chose the Daisy Delight Special Offer as my focus, as these free products will only be available for another week! So check out the video below (and I would love to get your comments 🙂 ) and then get all the details HERE.
When you do make a purchase, please remember to use the Host Code – 6Y67NNRN.
If you are not currently working with a demonstrator, I would love to have you as a customer. I offer excellent customer service and free items with qualifying orders.  If you would like a copy of the new Annual 2017-2018 Catalog or the 2017 Holiday Catalog, just email me and I will be happy to pop one in the mail for you!
I love hearing from you! If you have a question or thoughts to share about today's post, please feel free to leave a comment!
Thanks for stopping by today! I hope you get a chance to visit again soon!
Happy Stamping!
Lori