This is a clean and simple card that was super easy to make. I used the Swirly Scribbles thinlits to make the pumpkin shape, cut out some leaf dies from the Beautiful Branches thinlit set, and stamped the sentiment from the Thoughtful Branches stamp set.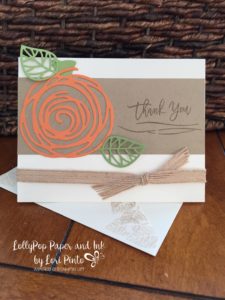 I placed a strip of Crumb Cake paper a little above the center of the card. I stamped the 'Thank You' sentiment on the right side of the strip and then placed the two piece pumpkin shape on the left side of the card. I cut the tree trunk using the Big Shot, trimmed off the top, turned it upside down and used that as the pumpkin stem. I then added the leaves and some burlap ribbon to finish off the lower third of the card with a nice simple tie.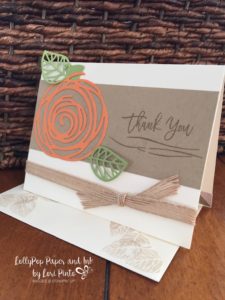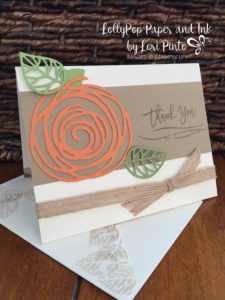 See how easy that was! I hope you will try this card for yourself. The bundle, which includes the Thoughtful Branches stamp set and the Beautiful Branches thinlits is so very versatile, you will be inspired to make many different designs! And remember, bundles always save you 10%!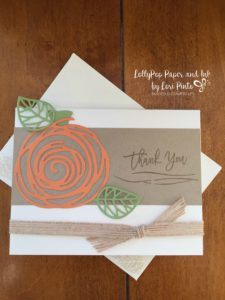 If you have any questions or comments, you can comment below or email me. I hope this project got your creative juices jumpin'! If you would like to order any of these products or any other items listed in the Stampin' Up! catalog, I would so appreciate the opportunity if you shopped through me. Just click  'shop online' in the menu bar above.
If you prefer to just browse the catalog, don't forget to check
out the Clearance Rack! There are some crazy discounts in there!

Thanks so much for stopping by today. I appreciate it greatly and hope you come back again soon! Happy Stamping!
Lori~
Here are the products I used for this card!