What is LollyPop Paper…. to go! ??? It is a special monthly package which includes everything you will need to create (3) cards designed by me and using the stamp set that I feature for the month. I cut all the paper and include all the items you will need to make the cards exactly like I do. You will also receive a PDF tutorial with instructions and tips on how to create the cards. If you like the cards I make and would like to know how I make them, this is a perfect way to do it!

People love coming to the card classes I hold in my home each month and I love having them! I would love to have YOU come to one of my classes! I know that is not really a possibility, unless you live in the Connecticut area, so I want to bring my classes (and cards) to you.
So here's the skinny… I will design three cards using one stamp set. I will send you the stamp set and all the paper, die cuts, ribbons and embellishments you will need to make the cards I have designed. You will also receive via email (or with your package – your choice), a PDF tutorial with detailed instructions and photos from me on how to make each card! There may be some months that a video is also included, depending upon the month!  😉
November Stamp Set:
Christmas Quilt Photopolymer Bundle
The Christmas Quilt Stamp Set and Quilt Builder Framelits Dies is a bundle with beautiful stitched images, pretty fonts, beautifully designed dies and is from the 2017 Holiday Catalog! I chose this set for the November class to go because of its versatility. Although the sentiments included are for the holidays, this set can truly be used all year round… and you don't have to be a quilter to appreciate the beauty of the set! I designed these three cards so that they can be easily substituted for any occasion that comes up throughout the year!
Take a look at the stamp set and bundle for yourself …. cute, right?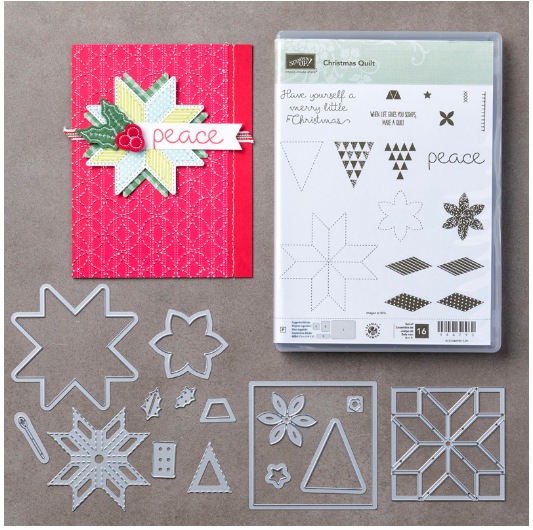 Here's a little peek at the cards you can make in November!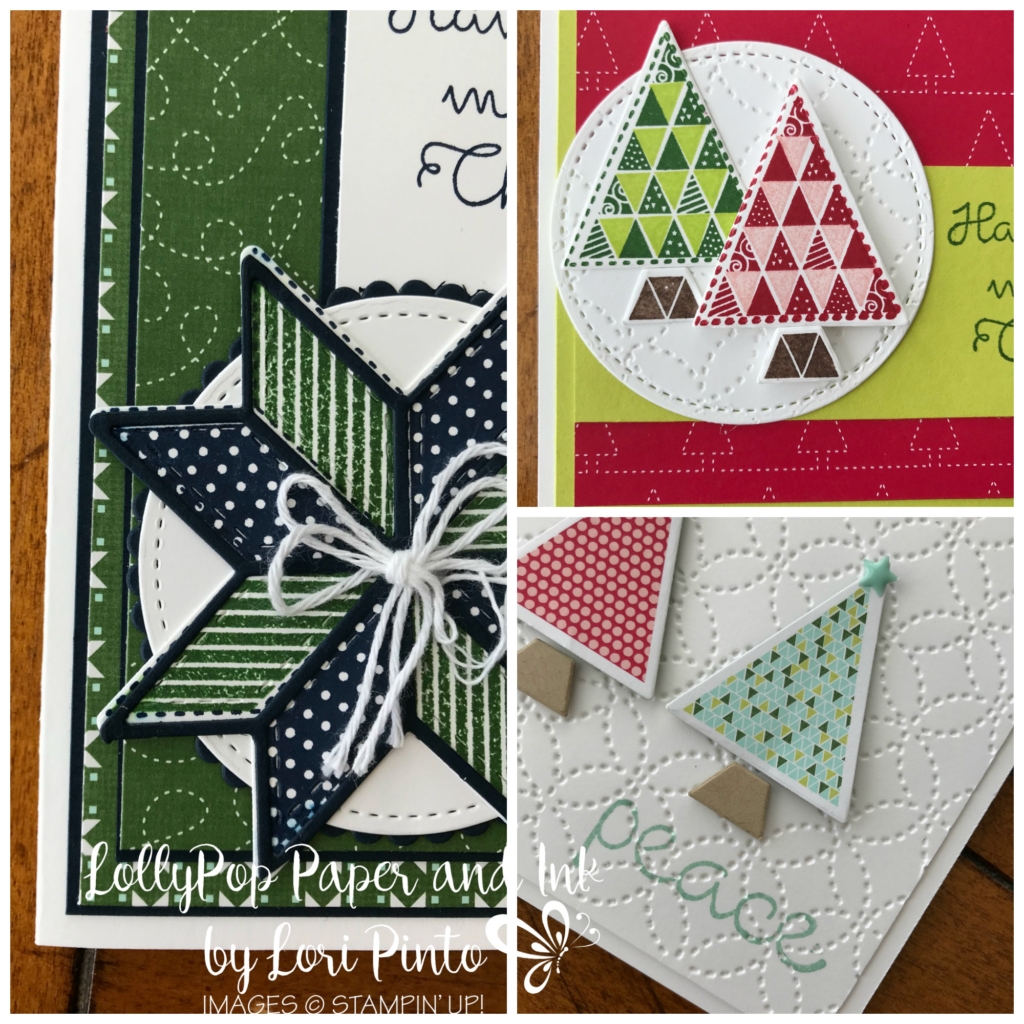 If you would like to participate in the November 'Paper…to go' class, please email me at lori.pinto@gmail.com and use the subject LollyPop Paper… to go! (This is so I can identify you right away!) At that time, I will email you a PayPal invoice. You do not need to have a PayPal account as you can use a credit card to pay through PayPal.
I only make a limited number, so it will be on a first-come, first-serve basis. Please email me as soon as possible.
In order to comply with Stampin' Up! rules, I must take orders before obtaining the products. I can take orders through November 12

th! 

The November Paper…to go! package will be mailed out no later than November 21st!
Each package will include the Christmas Quilt stamp set The Quilt Builder Framelits Dies, all the paper, die cuts (not included in this bundle), designer series paper, and embellishments you will need to create (3) cards designed by me.
Also included is a bonus – (6) Whisper White Envelopes.
You need to provide the ink and adhesives.
If you would like any of the suggested ink pads for this class, (I used Garden Green, Night of Navy and Pool Party) please specify which color(s) and I will add $6.50 each (includes tax and shipping) to your invoice.
If you have this stamp set already, you may choose another stamp set and/or Stampin' Up! products – up to the value of this month's stamp set.
The cost is based on the retail price of the stamp set and bundle with tax and shipping for me to receive the materials. I have also added a $7.20 priority mail cost for shipping to you once I have added the class materials. You can subtract $7.20 if you are able to pick it up from me. There is no additional cost for the card materials and instructions.
 The price for this month's Paper…to go! is only $62.80!
If you wish to purchase only the Paper…to go, and not the stamp set~ your cost would be $14.99 + $3.30 shipping = $18.29
Here is what one of my customers said about the LollyPop Paper …to go!
Barbara D: Oh Lori I just received your class to go and it is magnificent!  And such beautiful and professional packaging.  I will definitely be watching your posts for future kits.
I would love to stamp together.
Email me at lori.pinto@gmail.com to order this month's
'Christmas Quilt Stamp Set and Bundle' ~ LollyPop Paper… to go!
Lori