Sale-A-Bration  3-Month Stamp Club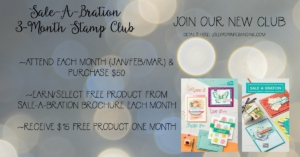 3-Month Club that you can do 2 ways… Local or Online… Same great benefits & free products!
How Does It Work?
This is the same framework for both the Online and Local Sale-A-Bration 3-Month Clubs. See below for the upcoming 'Local' Stamp Club dates, where we meet at my home.
By joining my Sale-A-Bration 3-Month Stamp Club, you agree to place an online order each month (January, February, March) by the 15th of the month.
Each member agrees to make a minimum purchase of $50 (not including tax and shipping) each month.
With each $50 purchase, you earn a FREE item from the Sale-A-Bration Brochure.
We will make (3) cards each club night ~ with a specific theme (noted below).
All materials are prepped and tools are provided for you at each club night.
There is no cost for the club nights!
If for any reason you cannot make the club one month, your spot is still reserved because you will still make the $50 purchase online.
This club runs during the Sale-A-Bration promotion only – January through March, 2018.
You can choose your purchases from either the Occasions or Annual Catalog – and earn one FREE item from the Sale-A-Bration Brochure each month.
You will be placed with two other stampers to form a club.
Each month, one stamper will be the Hostess and receive the Stampin' Rewards for that month! That means you will receive a minimum of $15 in FREE product (Stampin' Rewards are always 10% off an order of $150+) during the month that you are the Hostess.
When Will I Be The Hostess?
The first person to signup for the club will be the Hostess in January, the second will be in February and the third will be in March.
How Do I Order?
Go to my online store and place your order. You can pay with Mastercard, Discover or Visa. I will give out a new Hostess Code to use each month. Everyone will use this code when placing their order. Your order will be shipped directly to you.
If you are the Hostess that month, you will be the last to place your order online so that the order ($150+) will prompt you to enter your Stampin' Rewards Items (10% of the total order) or minimum $15 of FREE product! I will close out the workshop order within 24 hours.
I will send out a friendly reminder on the 13th of the month in the event you have not placed your order by that time.
Dates of the 3-Month Club (For Local Members)
January 17, 2018 ~ Birthday Cards
February 15, 2018 ~ Thank You Cards
March 14, 2018 ~ Spring/Assorted Cards
To Sum It Up:
You get $150 in product ~ 3 FREE Sale-A-Bration Items ~ $15 (minimum) in FREE products with Stampin' Rewards ~ AND a special FREE thank you gift from me for participating in the club.
It's Just That Easy! ~ Come Join Our Club! ~ Email me today (lori.pinto@gmail.com)
Happy Stamping!