Let's do another paper share, shall we?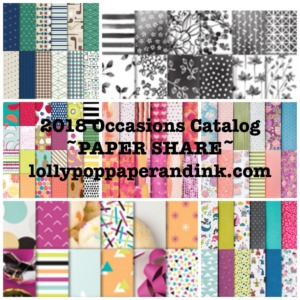 With any new Stampin' Up! catalog, you can always expect beautiful new paper, and if you are like me… you want it all! Since that is not usually a possibility, I am offering a
Paper Share
for the Occasions Catalog so that you can get a sampling without having to buy it all at once! You get to see, touch and play around with every design — and then you can decide which ones really are your
must-haves!
I put great care into each paper share package by making sure the products get to you in the same perfect shape that it was sent out in! Why not give it a try? Previous shares have been very successful with my customers! Here are the details…
PRODUCT SHARE #1  ~ DESIGNER SERIES PAPER ~ $29
You will receive (2)  6" x 6" sheets of all the NEW DSP in the 2018 Occasions Catalog.

That is

72 

sheets of 6" x 6" Designer Series Paper!

If you were to order all 7 packs of just the DSP, it would cost you $81.

Participating in this share, you can get a sampling of each design from each DSP pack for only $29 – plus $7.20 (if you are not local) for shipping ($29 includes tax & shipping to me from Stampin' Up!)

Each pack of 6' x 6" DSP is stored in a sealable plastic bag and labeled with the information about that product (name, item #, price, coordinating colors).

Once the share fills up (4 people per share), I will notify you of the filled share.

Per Stampin' Up! regulations, I cannot send you an invoice until 7 days prior to the catalog going live. So, on December 27th I will send out all the invoices and get the order placed with Stampin' Up! once all payments for that share is received. 

It will be no longer than a two-week turnover period from the time the order is placed and the day it ships to you.
The New Papers are:
Picture Perfect Party DSP
Petal Passion DSP
Sweet Soiree Specialty DSP
Painted With Love Specialty DSP
True Gentlemen DSP
Tutti-Frutti DSP
Myths & Magic Specialty DSP
PRODUCT SHARE #2 ~ DSP + COORDINATING CARD STOCK PACKS ~ $47
You will receive (6) pieces- (2) of each color of coordinating 8-1/2″ x 11″ card stock for each DSP*.
The coordinating pack for the Myths & Magic DSP is *6″ x 6″ Glimmer Paper .
The Painted With Love coordinating card stock pack sheets are 12″ x 12″, but will be trimmed to *12″ x 6″ for easier mailing in a priority envelope.
You have a choice of just joining the DSP Paper Share or the DSP Paper Share + Card Stock Share.
Why not do both? It will mean you are ready to get busy stamping once this catalog goes live on January 3rd when you can get your hands on these fantastic new stamp sets!
TO SUM UP!:
SHARE #1 – DSP PAPER SHARE

ONLY

– $29
SHARE #2 – DSP PAPER SHARE

PLUS

CARD STOCK – $47
SHIPPING!:
Shipping is the same for both SHARE #1 and SHARE #2 – $7.20 Priority Shipping. (All the more reason to get the SHARE #2)   🙂
Email me at lori.pinto@gmail.com so I can add you name to the paper share today! Please put 'Product Share' in the subject so I can identify you right away.
 As soon as the share closes, I will notify you of your reserved spot in the share. On December 27th, I will invoice you through PayPal (although you do not need a PayPal account to use PayPal) and I will place the order with Stampin' Up! as soon as payment is received.
I am so happy to be able to get these shares out to you and I know you will enjoy each and every piece! #sharingisgood!
 Feel free to contact me with any questions. See below for a peek into all these beautiful Designer Series Papers!