Have You Requested Your Catalogs Yet?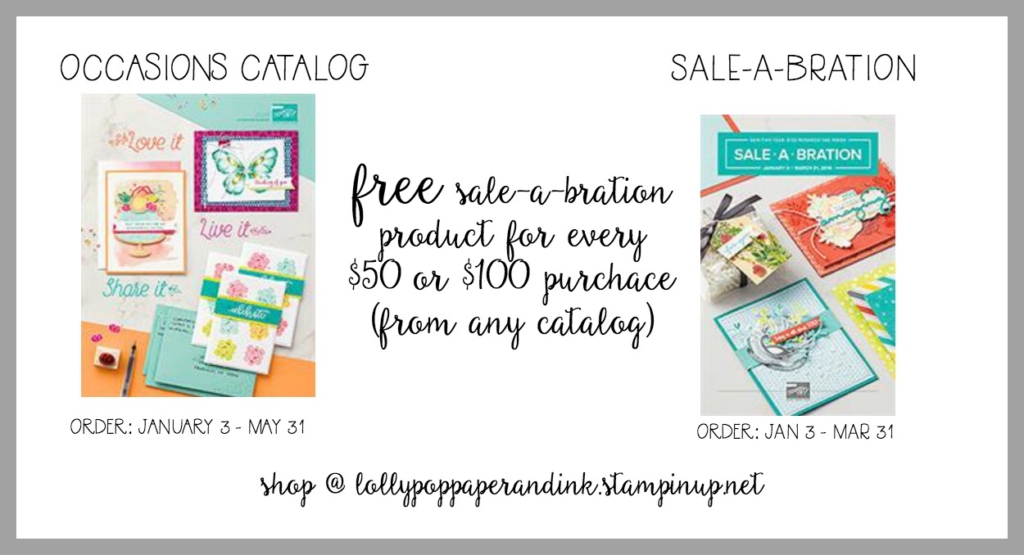 I ordered a bunch and will be happy to pop one of each in the mail to you as soon as I receive them! I will be shipping out all catalogs by the third week in December! This gives you plenty of time to make up your wish list for when the catalog goes live on January 3rd!
If you've purchased through me during the past six months, I have arranged for you to get your copy direct from Stampin' Up!.  🙂
SALE-A-BRATION BEGINS JANUARY 3, 2018 
 BUT STAY TUNED … I WILL BE POSTING PROJECTS ALL DURING DECEMBER USING  PRODUCTS FROM THE OCCASIONS CATALOG … AND FREE PRODUCTS FROM THE SALE-A-BRATION BROCHURE… RIGHT HERE ON MY BLOG!
If you are not familiar with our Occasions Catalog and Sale-A-Bration Brochure, Here is a quick breakdown.
For every $50 you spend, you'll receive a FREE Sale-A-Bration product. For anyone who has enjoyed Sale-A-Bration in the past, we have an exciting new announcement for this year: We now have a new reward level, giving you more flexibility and options for free items.
Let's break it down:
If you spend $50, you get one free 

level 1

 product.
If you spend $100, you get one free 

level 2

 product, OR, you can choose two 

level 1

 items.
If you spend $150,you have the option to choose three 

level 1

 items or one 

level 1

 item and one 

level 2

 item.
All of the items in each of these levels are so beautiful and you will get so much enjoyment from them.  Contact me to get your catalogs now… by email – lori.pinto@gmail.com or by commenting below the post!