I was not kidding when I said the possibilities with this Daisy Delight Bundle were endless!  🙂 For this one, I tried a new shaving cream technique for the background paper.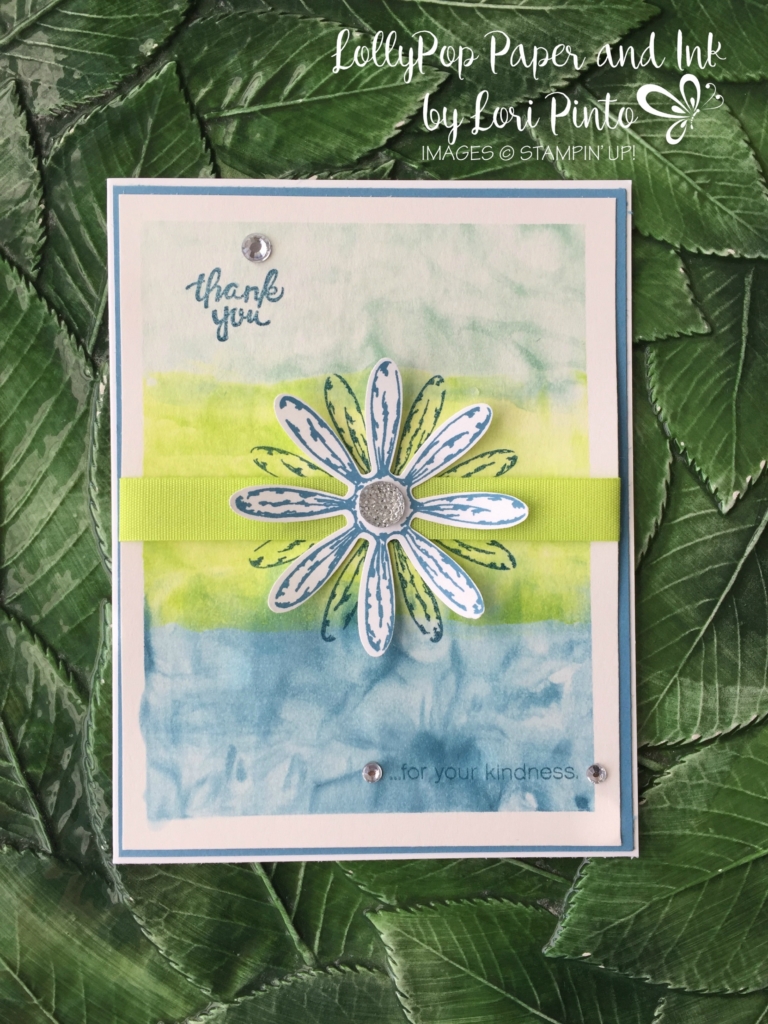 This is a very fun technique to use…and very addicting! I got the technique from a fellow Pal demonstrator, whom I really admire as all her work is truly artistic. Her name is Kim Jolley.
The technique is pretty simple. I blocked off a slight margin all around the paper with painter's tape to keep it flat while working on it. You just stamp the ink color right onto a clear block and then spread a layer of shaving cream over the block to pick up the color. Run the block in any direction around the paper and then wipe off with a scraper. It comes out beautiful and different each and every time.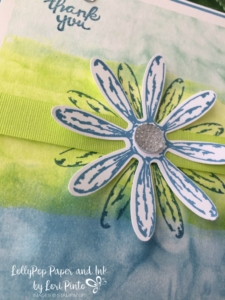 I used Marina Mist card stock layered over a Whisper White base. I did the shaving cream technique on a piece of white shimmer paper (you could also use watercolor paper). I used Marina Mist, Lemon Lime Twist and Pool Party and worked the shaving cream color onto the paper in thirds.
I stamped a daisy from the Daisy Delight stamp set in Marina Mist right onto the background paper and then stamped a second daisy on a piece a scrap paper and cut it out using the daisy punch. I ran a strip of the Lemon Lime Woven Ribbon through the center of the card front and then adhered the second daisy right on top with a glue dot!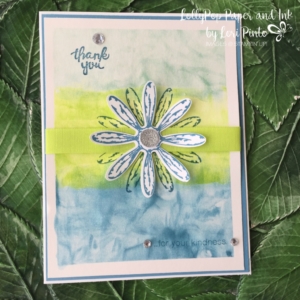 I added the sentiment from the Wood Words stamp set for the 'thank you' and the 'for your kindness' is from the Daisy Delight stamp set. I finished it off with a Clear Faceted Gem in the center of the daisy and a few Jewels Basic Rhinestones and that was it!
Like I said…. it was pretty addictive and before I knew it, I had four different background layers ready for upcoming projects. You will see for yourself once you give it a try.  🙂
I hope you liked today's card! Unfortunately, the Daisy Delight Bundle is back in 'unorderable' status until early August. If you don't have this bundle already, I strongly suggest that you order it as soon as it is back in stock. But… that does not mean you can't try this fun shaving cream technique on any stamp set you already have!  🙂
When you do make a purchase, please remember to use the July Host Code – SDJEDMAN  so that I can continue sending a free thank you gift at the end of the month! 🙂
If you are not currently working with a demonstrator, I would love to have you as a customer. I offer excellent customer service and free items with qualifying orders.  If you would like a copy of the new Annual 2017-2018 Catalog, just email me and I will be happy to pop one in the mail for you. By placing an order with me during July, you will automatically be put on the list to receive the new Holiday Catalog, which you should receive later next month – right before the catalog goes live on September 1!
Feel free to contact me with any questions or comments! I would love to hear from you!
Thanks for stopping by today! I hope you get a chance to visit again soon!
Happy Stamping!
Lori