June is my birthday month! What better time to give away free stuff?  🙂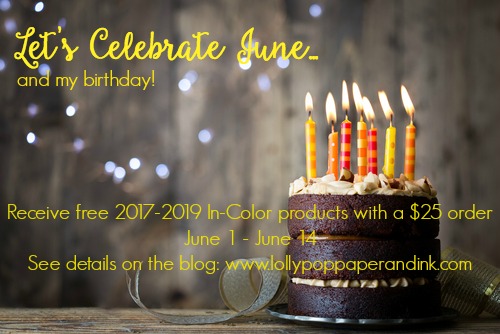 For every order of $25 (before tax and shipping) placed between June 1st and June 14th, I will send you:
Free – 10 Pieces (2 of each color) of (6″ x 6″) 2017-2019 In Color Card Stock 
Free – 18″ of each 2017-2019 In Color 1/2″ Finely Woven Ribbon
I will mail these freebies out to you within a week of placing your order and I will pick up the shipping charges also. Happy Birthday to me!  😉   Be sure to use the Host Code: Y4BSSJQX when ordering!
Feel free to contact me with any questions at all. If you would like a copy of the new 2017-2018 Annual Catalog, just email me and I will be happy to pop one in the mail for you today!

You can download and print a chart showing the 2017-2019 In Color Combinations (Great way to see how the new colors coordinate perfectly with all the other fabulous colors you already have!) Click here for free PDF
Thanks for stopping by today. I hope you get a chance to visit again soon! Happy Stamping!
Lori