I just wanted to take a minute to give you some information that Stampin' Up! has recently released regarding the Daisy Delight stamp set and punch bundle!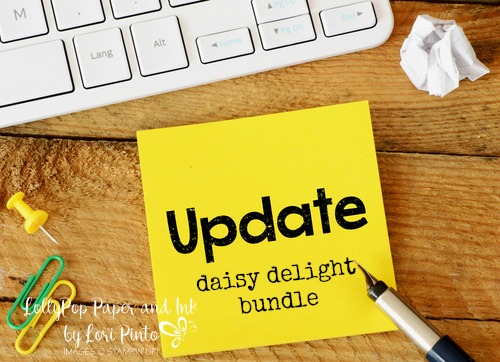 Due to the overwhelming popularity regarding the Daisy Punch, it was put on backorder until late July! 🙁  Stampin' Up! worked very hard to negotiate an earlier restocking date and managed to push the date up to late June! 🙂
With anticipation of continued popularity, and to prevent this punch from being in near-permanent backorder status, Stampin' Up! has decided to turn off the Daisy Punch beginning June 1st. This includes both the stamp set and the punch.
No Worries! – The Daisy Delight Bundle will be available again on June 26th!
Please come back again and check out my Daisy Delight Special, where I will be offering free Delightful Daisy Suite items with the purchase of the bundle (starting June 26th)!  🙂
I hope you will keep this fantastic bundle on your wish list until then! I promise you, it will be worth the wait! The catalog goes live this Thursday, June 1st! There are so many new and exciting products in this catalog and I am so excited to get my hands on some of them – right away! I know you will be too! And just to add a little extra incentive…I will be offering FREE  2017-2019 In Color products with any qualifying purchase during the first two weeks of June.  🙂

Feel free to download and print my 'Wish List' PDF to keep track of all your 'must-have' and maybe-next-month' items from the new catalog. If you would like a copy of the new annual 2017-2018 catalog, just email me and I will be happy to pop one in the mail for you. Click here for free PDF
Thanks so much for stopping by today. If you have any questions or comments, please feel free to contact me. I really do love hearing from you!
Happy Stamping!
Lori