Now that we have less than a month before the 2017-2018 Annual Catalog goes live – when we can turn that wish list into an actual reality, I want to give you some 'sneak peeks' into this fabulous catalog!  So, when June 1st arrives, we can all hit the road running! 🙂
This first video highlights one of the 'all inclusive kits' that is available. This kit is called Soft Sayings. These kits are the perfect solution for someone who likes to make their own special hand stamped card to give to friends and family, but maybe doesn't want to store a collection of products to do so. Or maybe you don't have the storage space you would like. Or maybe, you are like me and like to have everything in a nice little box (and this box is super cute 😉 ) to take with you for stamping on the run. It is great for getaway weekends, travel time diversions or just a period of down time while waiting for an appointment!
Check out this video to see all the beautiful cards (20 actually) you can make with this kit. And, if you love it and hate to see it end, you can always order the refill for another 20 cards.
So, I hope you think about adding this kit to your wish list for the catalog release on June 1st. It really is a fantastic way to get started with stamping or just stock up on those hand stamped cards you know you love to make and send out to those special people in your life!
Get ready to place your order on June 1st when the 2017-2018 catalog goes live!
I will come back and edit this post to add the product information for you to order on June 1st. Be sure to use the monthly host code and I will send you a gift at the end of the month as a thank you!
If you are not currently working with a demonstrator, I would love to have you as a customer. I offer excellent customer service and free items with qualifying orders. If you would like a copy of the 2017-2018 Annual Catalog, just email me at lori.pinto@gmail.com and I will be happy to pop one in the mail for you.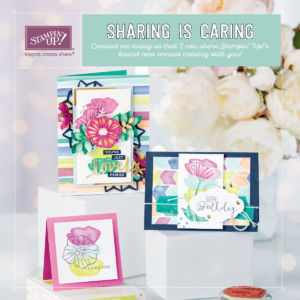 Feel free to contact me with any questions or comments! I would love to hear from you!
Thanks for stopping by today! I hope you get a chance to visit again soon!
Happy Stamping!
Lori