I know we are all so busy at this time of year, but I wanted to remind you all that we need to be good to ourselves also! Take another look at these crazy discounts that are available only while supplies last! Some of them are 60% off! 🙂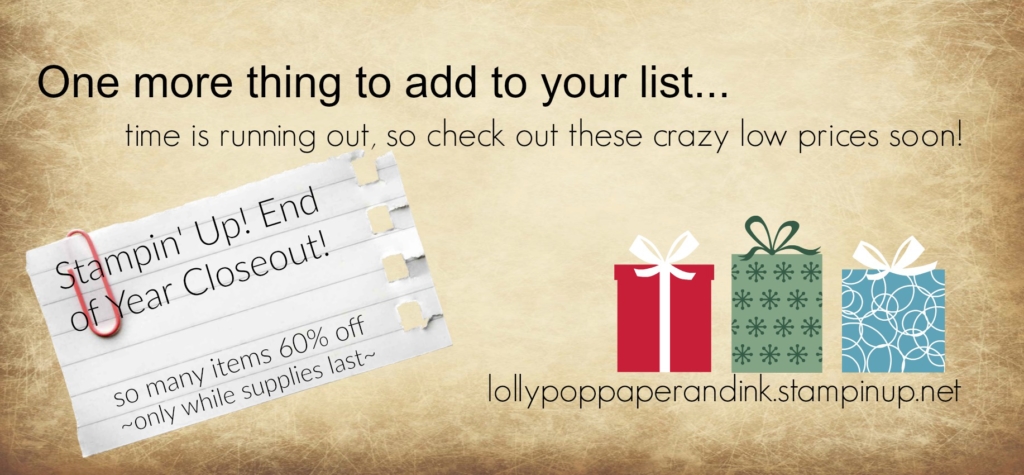 If you don't have a catalog on hand, you can go directly to the Stampin' Up! store and check out the discounts there.
In just a couple of weeks, (January 4th) our Sale-A-Bration begins! I would be happy to send you our Occasions and Sale-A-Bration catalogs! They are a must-have to see what you can receive for FREE beginning in January and running straight through the end of March! I will have much more info regarding this sale season coming very soon!
But the skinny is this – for every $50 you spend in either our Annual or Occasions catalog, you choose a FREE stamp set from the Sale-A-Bration Catalog! FREE!
Like I said, much more will follow on this, but now is the time to get those catalogs in your hands! Email me at lori.pinto@gmail.com, call me at 203-470-1306 or just click the link on the sidebar and I will get those catalogs out to you ASAP!
Thanks so much for stopping by today! I hope you get a chance to revisit soon!
Happy Stamping ~ Lori