So, I just couldn't get to this stamp set soon enough! I know that I should be working on Autumn and even Holiday cards (oh, please say it isn't that time of year yet!), but it was just love at first sight with this stamp set. It is called Bunch of Blossoms. There is also a punch that works with this stamp set, it's called Blossom Builder Punch. You can bundle both and save 10%. I didn't use the punch with this project because it cuts the individual leaf and I wanted the whole flower cut out. I love to fussy cut anyway! 🙂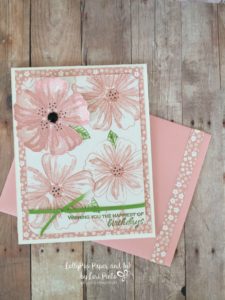 I started with heavy base weight (Whisper White) card stock and since I wanted this card to have a vertical landscape, I cut the 8-1/2 x 11 piece at 4-1/4 and scored it at 5-1/2. Completed card dimensions are 5-1/2 x 4-1/4.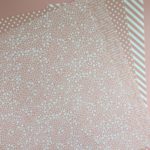 I used a pretty patterned paper (Blushing Bride) from the 'Subtles' DSP stack and cut that piece at 4 x 5-1/4 for the mat. Then, I cut a layering piece of white at 5 x 3-3/4 to stamp the images on. (As a general rule, I usually cut my layers 1/4 inch shorter on both the long and short side. That seems to work well for me.) I rounded the corners using a standard corner rounder. Then I just started stamping!!!
First, I stamped the large flower on a piece of scrap piece of white paper and fussy cut around the outside. Then, I just started stamping the large and smaller flower randomly around the paper. I popped the fussy cut flower on top of the stamped images and placed a black enamel dot in the center! I rolled the ends of the petals on the flower to give it some added dimension. I kept the colors monochromatic (I used Pink Pirouette and Blushing Bride), with just the addition of some stamped green leaves and a very thin green ribbon to accent the leaves and the sentiment, also stamped in green.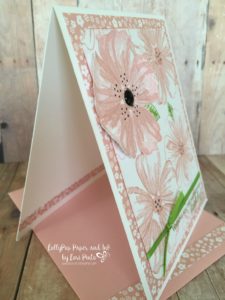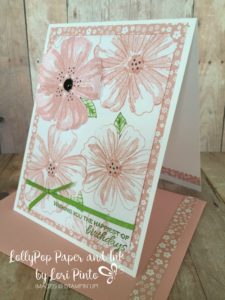 I love the 3-dimensional look any card can get with a pop-up, fussy-cut whatever placed here and there! Try it and see for yourself! I hope you like this card and it gets your creative juices jumpin'!
I would love your feedback at any time, so please leave a comment if you have a minute! Thanks so much for stopping by today and happy stamping!
Lori~
Below is a list of all the Stampin' Up! products that I used to make this project. If you would like to purchase any of these products, or do any Stampin' Up! shopping at all, you can email me or just click the shop online button. I would very much appreciate the opportunity for you to shop through me! Enjoy your day!