What is LollyPop Paper…. to go! ??? 
It is a special monthly package which includes everything you will need to create (3) cards designed by me and using the stamp set that I feature for the month. I cut all the paper and include all the items you will need to make the cards exactly like I do. You will also receive a PDF tutorial with instructions and tips on how to create the cards. If you like the cards I make and would like to know how I make them, this is a perfect opportunity to do so!

People love coming to the card classes I hold in my home each month and I love having them! I would love to have YOU come to one of my classes! I know that is not really a possibility, unless you live in the Connecticut area, so I want to bring my classes (and cards) to you.
So here's the skinny… I will design three cards using one stamp set. I will send you the stamp set and all the paper, die cuts, ribbons and embellishments you will need to make the cards I have designed. You will also receive via email (or with your package – your choice), a PDF tutorial with detailed instructions and photos from me on how to make each card! There may be some months that a video is also included, depending upon the month!  ?
September Stamp Set: Painted Harvest
The Painted Harvest Stamp Set is one of my favorite sets from the 2017 Holiday Catalog! I immediately saw endless possibilities of designs, especially with (my favorite time of year) Autumn, right around the corner.
The Holiday Catalog does not go live until Friday, September 1st! It is very possible, because of the anticipated popularity of this bundle that it may go into backorder status very early. I will monitor the inventory, but strongly suggest that you let me know asap as I will have to close the class at that time (low inventory) in order to fulfill the class orders that have already been placed!
Here's a little peek at the cards you can make in September!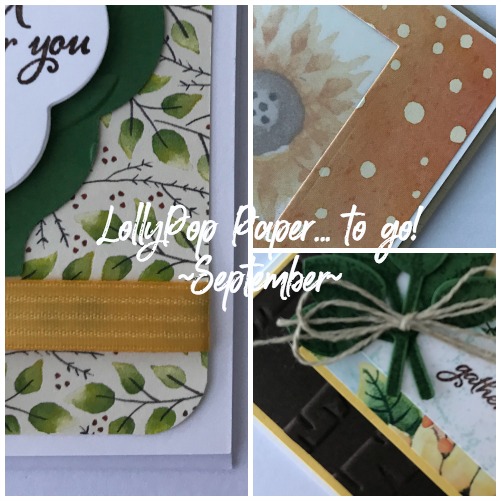 If you would like to participate in the September 'Paper…to go' class, please email me at lori.pinto@gmail.com and use the subject LollyPop Paper… to go! (This is so I can identify you right away!) At that time, I will email you a PayPal invoice. You do not need to have a PayPal account as you can use a credit card to pay through PayPal.
I only make a limited number, so it will be on a first-come, first-serve basis. Please email me as soon as possible.
In order to comply with Stampin' Up! rules, I must take orders before obtaining the products. I can take orders through September 15th, or until I see inventory getting low! At that time, I will have to close the class and order the materials immediately. I know this stamp set (and bundle) will be very popular once the catalog is released, so please email me asap before we are forced to deal with backorder issues!  🙂
The September Paper…to go! package will be mailed out no later than September 27th!
Each package will include the Painted Harvest  stamp set, all the paper, die cuts, designer series paper, and embellishments you will need to create these (3) cards designed by me.
Also included – bonus – (6) Whisper White Envelopes.
You need to provide the ink and the adhesives.
If you would like any of the suggested ink pads for this class, (I used Garden Green, Daffodil Delight, Crushed Curry, Chocolate Chip, Crumb Cake, Pool Party) please specify which color(s) and I will add $6.50 each (includes tax and shipping) to your invoice.
If you have this stamp set already, you may choose another stamp set and/or Stampin' Up! products – up to the value of this month's stamp set.
The cost is based on the retail price of the stamp set with tax and shipping for me to receive the materials. I have also added a $7.20 priority mail cost for shipping to you once I have added the class materials. You can subtract $7.20 if you are able to pick it up from me. There is no additional cost for the card materials and instructions.
 The price for this month's Paper…to go is only $39!
If you wish to purchase only the Paper…to go, and not the stamp set~ your cost would be $14.99
I would love to stamp together. Email me at lori.pinto@gmail.com to order this month's
'Painted Harvest' ~ LollyPop Paper… to go!
Lori